Creating a profile at WriterShack is a great way to get noticed by others and network.  This tutorial will show you all the necessary steps to do so.
Before we jump into how to create a WriterShack profile, let's discuss why it is beneficial.  Quite simply, creating profile on WriterShack allows you to be seen.  Other industry members looking to hire or collaborate, whether they're writers, publishers, or editors, can do so by searching through our site.
It costs nothing to create a profile, and it's simple too.  So, what do you have to lose?
Let's get to it!
To begin creating your WriterShack profile, go to the site's home page.
Once there, click on Register at the top of the page.

At the Create an Account page, enter in your account details, such as Username, Email Address, and Password.  It's a good idea to use a password that you can remember, but make sure it has at least eight characters and is a mix of numbers and letters, just to be safe.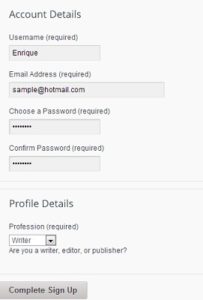 Finish registering by choosing whether you are a writer, editor, or publisher, and click the Complete Sign Up button.
You will now be directed to a page that says that your sign up is complete.  To activate the account and complete registration, you will need to look for an email from WriterShack sent to the address you used during the registration process.

After you have clicked the activation link in the email sent to your address from WriterShack, you will come to the Account Activated screen.

You can now log in to the site using your credentials by clicking on Sign In at the top of the page.

Now that you are signed in, you can create your profile.  Do this by clicking on Edit My Profile.
You'll be taken to a page that shows tab for your activity, profile, messages, friends, groups, forums, albums, events, and settings.  The profile tab with be automatically selected.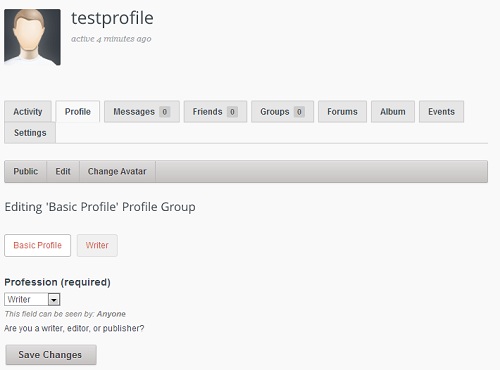 Select your profession in the drop-down box. (Writer, Editor, Publisher).  Click Save Changes.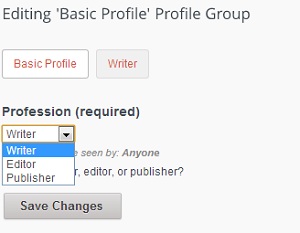 You'll see a message that your changes have been saved.  Next, click on the Writer button to the right of Basic Profile.  If you selected Editor or Publisher as your profession, you would see an Editor or Publisher button instead.
Now is when you begin to fill in your profile.  You will enter data such as your location, genre or area of expertise, and links to social media profiles, websites, or published work.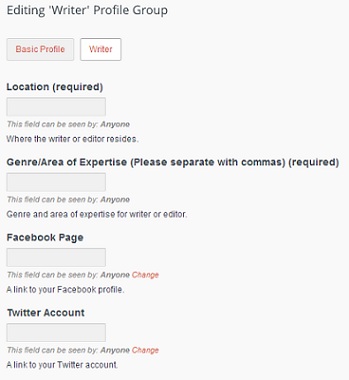 You will also enter if you are available for work, the types of work you do (in this case, the type of writing), and your preferred rates.  Finish off your profile by entering in any organizations you belong to, as well as your relevant skills/education and a biography.  It's very important to be thorough when filling out your profile, as this will represent you on the site and could mean the difference between getting hired for work and getting passed over.
Click Save Changes to finish.
In the future, you can edit your profile at any time.  You can also upload an avatar if you wish.
Now that you see how easy it is to create a profile on WriterShack, what are you waiting for?  Create yours now!