Submission Guidelines and Writer Guidelines for Ellery Queen Mystery Magazine
About
Ellery Queen's Mystery Magazine originally launched in 1941 and is known to offer readers the best in short mystery fiction.  EQMM has won an enormous amount of industry awards dating all the way back to 1946 and holds the title of being the most lauded short story mystery magazine ever.  Examples of writers who got their start via EQMM include Jack Finney, Nancy Pickard, and Harry Kemelman.
Website: http://www.themysteryplace.com/eqmm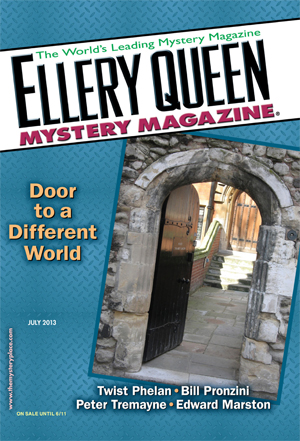 Contact E-Mail: elleryqueenmm@dellmagazines.com
Contact name and position: Editor
Writer Guidelines:  Guidelines
Samples of Publication:  Latest Issue
Genres and Subjects Accepted: Mystery/Crime – Open to all/most SubGenres, including: Cozy, Crime, Detective, Hardboiled, Historical, Noir, Police Procedural, Private Investigator
Styles accepted are Literary, Mainstream, Pulp, and Realist.
Almost all subjects are accepted.
Types Accepted: Flash Fiction, Novelette, Novella, Short Story
Publication Type: Print
Frequency and Circulation: Monthly
Pay Type and Amount: Typically 5 to 8 cents per word, sometimes higher
Submission Types: Electronic or Mail
Allow Reprints? No
Allow Simultaneous Submissions? Yes
Allow Multiple Submissions? No
Estimated Response Time: 90 days
Require Query? No
Tips:
Read guidelines fully.
Read at least one sample issue.
Do not query within 90 days.